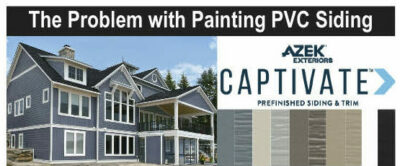 "Why can't I paint my Azek PVC black?"
As a salesperson, I hear this question often, and trust me, I understand the frustration. Unlike wood or most composite materials, PVC does not have the capability of being painted a dark color without flaking or chalking from sun exposure. While it might look good in a photo on social media the day it was painted, it will most likely not look good months after it's weathered. Time and again, I have heard pleas from contractors and homeowners alike for a better way to fix this issue, and today, I am finally happy to announce the solution: "Captivate," the new PVC Azek product. Azek Captivate is an exciting new line of PVC products that combines a product built to last with a choice of ten prefinished colors – making this innovation an ideal choice for a wide range of applications. And best of all, Tague Lumber is the ONLY stocking dealer of this product in the region.
Now, at this point, you may be asking yourself, "Well, how is Azek Captivate different from the old way of painting my PVC?," and to that I gladly say, "Great question!" Azek Captivate is made with a special formula that creates an updated PVC board to handle the color. As a result, the newly prefinished PVC boards are a blend of engineered polymers, PaintPro® technology surface prep, and automated painting with top-tier solar reflective coatings – the combination of which makes it incredibly durable and resistant to the elements without compromising on excellent style.
With ten prefinished color options, it's also easy to find an Azek Captivate product that fits your aesthetic. Whether you're looking for a sleek and modern design or a more traditional appearance, the new Azek Captivate has something for everyone. No matter what you have in mind, the prefinished options available ensure that you can find the perfect product to match your home's style.
Ultimately, if you are looking for high-quality building materials that are both low maintenance and environmentally friendly, look no further than Azek's product lines. Since they don't require any staining, sealing, or painting, all of Azek's products are designed to be effortless – and with no need for such time-consuming annual chores, you can spend much more time enjoying your outdoor space instead of maintaining it. Simply wash any of your Azek products with soap and water, and they will look as good as new for years to come.
As a bonus, not only are Azek's products hassle-free, they are also made from sustainable, recycled materials. As a company, Azek prides itself on its "Full Circle PVC Recycling" program which takes all scraps (even those from construction job sites and manufacturers) to create new PVC boards – and if you ask me, finding PVC that is both earth-conscious and time-saving sounds like a deal!
Finally, let's not forget: backed by a 50-year limited warranty, Azek provides a long-lasting protection that eliminates concerns about replacing siding or trim due to damage from termites, rot, or decay and gives you the peace of mind that your investment will stand the test of time.
If you are a visual person, stop by the Tague Design Showroom in Malvern to see a sample of Azek Captivate in person. Tague Lumber is currently stocking and special-ordering all Azek Captivate colors and profiles. No matter what, whether you're looking to check out the new Azek Captivate or seeking other supplies for your next project, make sure to call us or come to any Tague Lumber location today for all your building supply needs. And of course, once you visit, I can't wait to see your imagination take shape!
— blog post by Alexa Chiafullo, Sales Rep at the Tague Design Showroom in Malvern, PA.
For more information on Azek Capitvate, click here.