Tague Lumber's
Kennett Square location
at 475 McFarlan Road
is NOW open for business!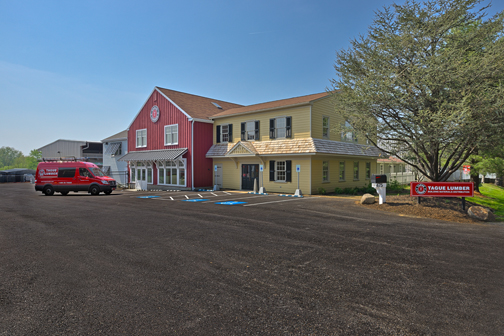 Tague Lumber – Kennett Square  Hours of Operation:
Monday – Friday from 7:00am until 4:30pm daily
 General Manager, Matt Potter
Phone:  610-444-1200
Tague Lumber proudly announces their newest location at 475 McFarlan Road (formerly Danby Lumber) in Kennett Square is officially open for business. Kennett Square marks the sixth location for Tague Lumber and features state-of-the-art, drive-through warehouses ready to serve builders, remodelers and homeowners.
The Kennett Square location will include thousands of residential and commercial building materials; Tague's innovative drive-through warehouse offers convenient selection and pickup. Inventory features a vast array of lumber and building materials including: engineered lumber, windows and doors, drywall, Tague's signature line of mouldings, millwork, hand and power tools, plus mushroom house supplies to support the local Kennett Square mushroom growers. For jobsite deliveries, Tague offers its signature fleet of vehicles including: boom trucks, moffett trucks, flat bed, curtain side, box trucks and service vans, all of which allows us to deliver what you want, exactly where you want it!
Founded in 1908, Tague Lumber is a family owned Building Materials Distributor with over 106+ years of dedicated service in Philadelphia and surrounding counties. Tague Lumber is a leading supplier of quality lumber, windows & doors, moulding & millwork, and building materials serving industry professionals, builder, contractors, remodelers and homeowners. The company now has a total of six convenient locations including lumberyards in Germantown, Media & Phoenixville, a 10,000 sq. ft. Kitchen & Bath Design Showroom in Malvern, and Premier Door Frame & Hardware, their commercial division in Northeast Philadelphia.
Tague's steady expansion is a testament to their longevity and commitment to the local communities. "Since its founding in 1908 Tague Lumber has been firmly rooted in Philadelphia and the surrounding counties," said Vince Tague Jr, president of Tague Lumber. "We are dedicated to serving the needs of professional contractors and builders and we are excited to offer that level of support to the residents of Kennett Square."
GRAND OPENING EVENTS!
Events are scheduled all summer long  at our Kennett Square location, so stop by often for a chance to win some great prizes and giveaways. Join our Email list for updates on our "Grand Opening" festivities planned for September 2014.