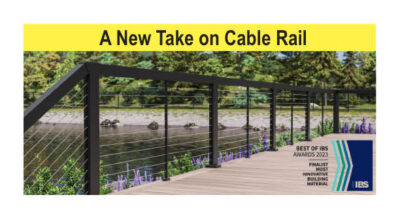 In the last few years, cable rail has become a hot topic throughout the building industry. From residential homes to commercial spaces, the modern design of the cable rail has continued to be a clear favorite across all railing manufacturers.
    Cable rail is superior in style and function. Made with durable, high-quality materials, such as stainless steel or aluminum, this rail is built to withstand the test of time. The material and finish also offers the benefit of low maintenance. With the black finish and slim posts, cable rail can create a modern aesthetic while fading into the background of the landscape. The cables themselves virtually disappear, leaving the observer with a clear view of the surrounding scenery.
     Although cable rail looks exceptional once installed, there are a few looming issues that contactors face when taking on the project of installation. Because cable rail is comprised of many parts and pieces, most manufacturers request some sort of drawing or layout of the deck in order to provide the correct materials to complete the project. This step requires pre-planning and very little deviation from the original layout. Unlike rails with balusters which span the length of the posts, cable rail is continuous and extends through each post. This can sometimes create issues with the cable staying taut throughout the entire span of the railing. The considerable amount of time involved in the installation is also unfavorable in comparison to other railing options.
    This year RDI released a new form of cable rail. The RDI® Elevation™ Rail is taking the market by storm and was awarded Most Innovative Building Material at the 2023 NAHB International Builders' Show® (IBS). Because of this product's design, functionality, innovation, and usefulness it became a crowd favorite. Another upside to this product is that it comes in a preassembled kit which saves a great deal of time and hassle. The installation of this rail is proven to be 38% faster than the leading competition. The RDI® Elevation™ Rail also offers SOLARGUARD® material composition which protects the railing from fading. Similar to other aluminum rails, this product is very low maintenance; it is recommended to inspect and clean the railing 1-2 times per year. This process is as simple as spraying the rail with a standard garden hose.
Key points that make RDI® Elevation™ Rail superior to its competition:
No special tools or fasteners needed.
Continuous top rail for level and stair rail applications.
Modern, industrial design which offers unobscured views.
Can be used indoors and outdoors
Offered in matte Black with stainless steel cables
6'x36" sections in level and stair rail
Transferable Limited Lifetime Warranty on aluminum rails and posts. Limited Warranty on cable fittings.
     RDI® Elevation™ Rail provides the modern look and feel of traditional cable rail while also providing easy installation, giving you the satisfaction of enjoying your new or redesigned outdoor living space as quick as a wink.
 —  blog post by Makenzie Harper, Sales Rep at the Tague Lumber in Doylestown, PA.